I am no stranger to Fabric, having started my raving career there almost seven years ago. As my musical taste has evolved over this time period, I have discovered how diverse the listings for their various nights are. Friday nights typically cater to the dubstep and drum n bass enthusiasts, whilst Saturdays are usually more techno and tech house. However one of the privileges of having three separate club rooms, is it allows the individual nights to keep the music spectrum as wide as possible to appeal to a larger audience. It is not without good reason that Fabric continually appears right near the top of any lists of the best clubs in the world, and over the years, the name has become much more than just a club name. It is a label, a brand, a culture, and widely accepted as the number one host to the biggest names in the electronic music industry. Certainly in London, and probably within the whole of the UK. In my opinion you have to go as far as Berlin or Ibiza to find anything that rivals it.
Recently I have found myself neglecting their Friday nights in favour of Saturdays. I have been exploring a lot more of the techno scene, due in part to making some fantastic and very knowledgeable new friends who are very clued up on their techno and have been only too happy to guide me through a techno education.
I decided to check out the Beatdown this week as it used to be one of my favourite nights, and was a good compromise between the genres, as room 1 was hosting some huge dubstep and drum n bass names, with room 2 announcing one of my top three DJs of the year, Popof, a french DJ who I discovered this summer, as well as Riva Starr, who I have been meaning to see play for a while. I also had some friends visiting from New York who had never been to the club, and I couldn't let them leave without having experienced the Fabric magic.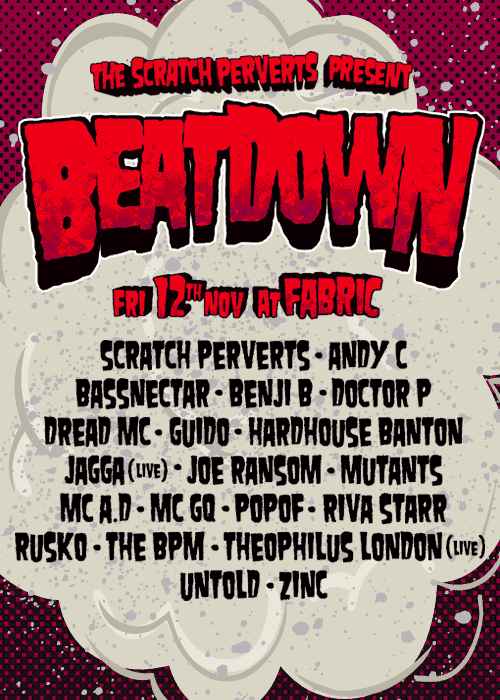 Fabric release their set times on the evening of each event which is very useful for planning your night. I was informed that the first DJ I didn't want to miss, Rusko, was on at midnight and we decided our night would start then. The club is notorious for selling out their pre-sale tickets in advance but always hold back a limited number for the door, so if you don't mind getting there early and queuing, you can usually get yourself inside. I joined the Fabric First membership years ago and highly recommend it. For £7 a month you get the Fabric CD which they release every month, delivered to your door, a well as discounted entry each visit and most importantly, queue jump for you and a lucky chosen one. Considering the CDs retail for a tenner each, it makes sense on every possible level. Eat one fast food less a month or smoke one less pack of fags and sign yourself up at www.fabriclondon.com. Bargain.
Anyway, not having to queue meant we could stroll in casually at about 11.45pm, making sure of course to allow the long queue of punters waiting to be admitted see the smug smile I was wearing as I passed by them all straight to the front. Once inside I knew how popular the night was, by the longer than usual queues at the ticket cashiers and the cloakrooms. Before too long though we were heading down the familiar stairs that carry you all the way down to the main bar by room 1.
As I pushed the doors open, the unmistakable sounds of Rusko began resonating in my ears, and the unrelenting bass had the floor trembling. After a quick bar stop, we headed through the crowds surrounding room 1 and pushed our way through onto the dancefloor. Fabric is famous for its vibrating dancefloor in room 1, which means that you feel the bass right in your chest. I think it is most noticeable when listening to dubstep, and it means you are completely involved in each thumping note.
We decided to explore room 2 for a bit and I wanted to give my American friends a quick tour of the club, but we returned for the end of Rusko's set. He capped things off with Cockney Thug, which is one of the best recognised tunes from the Fabric Live .37 CD, and regardless of how old that tune now is, the crowd went insane for it.
After a quick stop at the couches and a couple more rounds of drinks we headed into room 2 for Riva Starr. We managed to weave our way round the side of the crowd all the way to the front and found a decent amount of room right by the stage where we established our group. It's quite good to have a point on each dancefloor that you return to throughout the night, as it makes it easier to find your mates if you get lost, especially since there is terrible phone reception in a lot of the club.
Riva Starr played a selection of tech house that was actually a really refreshing change from room 1. There was a good mix of tunes, most of which I was unable to identify, but if he ever sensed he might be losing even a tiny bit of interest from the crowd, we were delivered a remix of Swedish House Mafia – One, or  Benny Benassi – Satisfaction, which made it literally impossible not to get excited and lose yourself again in the set. It was a very versatile sound, and room 2 stayed packed throughout which is all the credit to Mr Starr, seeing as Scratch Perverts were playing in room 1 and would have been a can't miss act for a lot of people attending. I was however quite content where I was.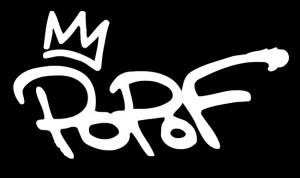 As 4.30am rolled around, it was finally time for the handover to Popof. In all honesty, he was pretty much the reason for my attendance that night, after memorable and unusual sets at both Melt Festival and Creamfields this summer, I had no doubt in my mind that he would deliver again, in my fa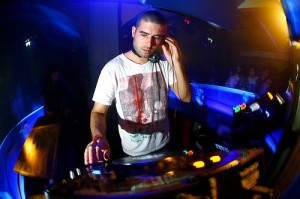 miliar surroundings of Fabric. Riva Starr continued til about 4.40am, delivering an impressive final three tunes to round off the set nicely. The moment of the handover was unmistakable. The playful, funky, punchy sound that Popof always delivers could never be confused with any other DJ. There is almost a jacking feel to his brand of tech house, it is not the kind of set you bop subtly to, it is the kind of music you get up on a stage and give yourself room to jump around and lose yourself in a little bit. So that is what we did. Finding one of the side stages in room 2 fairly clear, we moved the group to our new raving spot and finished off the night here.
It was perfect scheduling keeping Popof for the final set. It almost felt like the night could have been starting all over again. The whole of room 2 was buzzing and Popof was clearly a massive hit with the rest of the ravers too. There was one particular group of French women who might have been having the best night of their lives, screaming and throwing their arms around each other, taking about a million videos on their phones each. Their excitement was infectious and it was a great end to the night.
Considering Fabric Fridays are supposed to be about the drum n bass and dubstep, I think my stubbornness in spending most of my night in room 2 is a sign that perhaps in my old age (of 23), I have really migrated over to the techno side of electronic music. I have booked a ticket to Hospitality Warehouse Project in December, where there will be no room 2 style hiding place, no techno-walled safe house for me to take refuge in, so I guess after that I'll know just how much 17 year old drum n bass lunatic there is left in me…
See you on the dancefloor.