For the third year running 'Papa Techno', Mr Sven Väth, brought his Cocoon label and 3 massive names to help him put together this day-time festival in Leeds. Supporting him this year were Reboot (live), Seth Troxler and Ricardo Villalobos. Once again this was to be held to Temple Newsam, set just outside of Leeds city centre, hidden away within the grounds of a 450 year old mansion house and the forests which surround it. All that was needed to attract the crowd of nearly 12,500 ravers were; 4 DJs, 1 stage and a Funktion-one sound  system.
The event offered return coaches from several destinations including London, so for roughly £80 (£40 ticket and £40 travel), even us southern fairies could get involved with what had the potential to be something special. Each DJ was scheduled to play a decent length set, ranging from 3 hours to Sven's 4 and a half hour headlining act. Armed with a couple of best mates and some pink sunglasses, we dragged ourselves out of bed and round the corner to Shoreditch to meet the coach at 6am Saturday morning.
Yes, you read that correctly, 6am. Not a conventional time to start a raving adventure I'll admit. In fact there was something very disconcerting about waking up earlier than a normal weekday all the name of techno, but I guess that's what you call dedication. The coach ride there was actually fairly painless. Most people slept through the majority of it and 4 hours honestly flew by.
Arriving at the event site about 11am, once we had made our way through the historic grounds that separated the car park from the main site, it was a quick ten minute queue and we were in. First job was to get some sterling converted into drink tokens which the event had opted for. I've never really been able to make up my mind on drink tokens. Overall it comes down to how many drinks you're planning to buy and if the time spent queuing for tokens will be that much less than would be spent paying at the bar each time. In this instance it worked well and it wasn't long before I was armed with a pocket full of tokens, a beer in each hand, and had taken up a position just in front of the stage where Seth Troxler was already in full swing.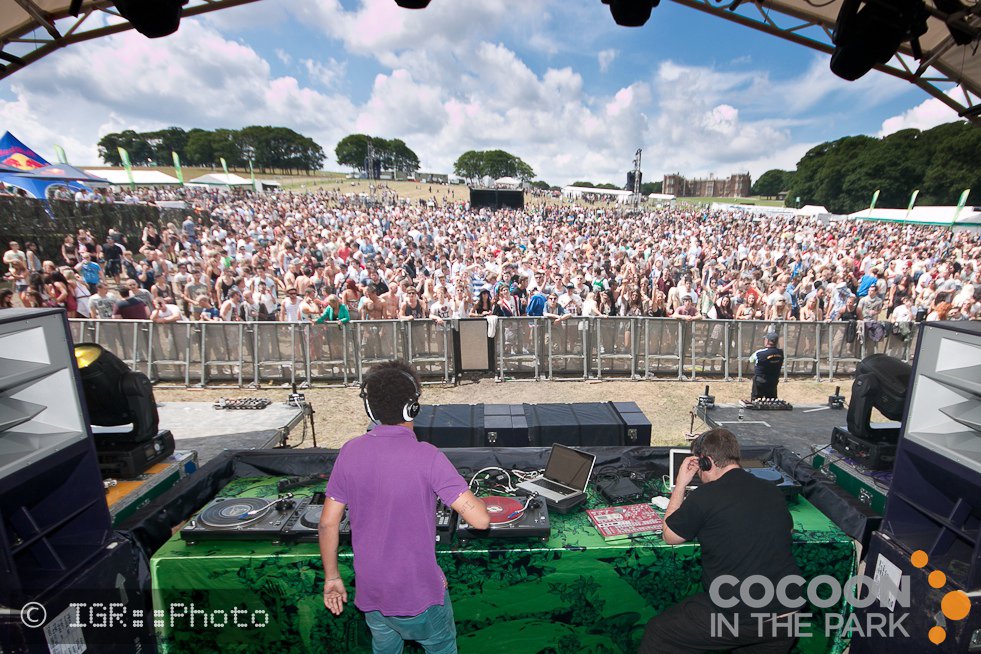 The Detroit-born Berlin resident is a new favourite of mine in 2011. He is an instantly likable character, full of energy and enthusiasm behind the decks. If I could party with any DJ it would definitely be this man and if he wanted to invite a few of his Hot Natured friends to join us, I'd be more than fine with that too. Anyway, this is not a DJ who ever stands still and he clearly loves his fans, never failing to interact with his crowd. It's exactly what was needed at this time of the morning to set the tone for the rest of the day and my only criticism was the failure to play Danny Daze – Your Everything, which I spent the whole set hoping for. I've never had deep house for breakfast before, but I certainly hope I do again.
Before long, Reboot was present on the stage setting up his equipment for his live set. The change over wasn't seamless, as is often the case when switching from decks to a live set, but the crowd was a forgiving bunch and morale was definitely very high for the early afternoon. The site had really filled up quickly and I was impressed to see that only a small number of people were sitting down, where as the vast majority were raving as close to the stage as they could get. The live set was interesting, perhaps I would have switched Troxler and Reboot around in the line up order as I felt the intensity was brought down a notch or two. Having said that, the set also contained what was my favourite moment of the day and I wouldn't be surprised if 12,500 other people agreed with me. As Reboot dropped Caminando, the entire crowd crouched right down to the ground, waving their arms in an almost worship style sign of appreciation, jumping up again as the tune dropped. It's a brilliant feeling to have that many people in sync and it looked like Reboot enjoyed the moment as much as we did:
The penultimate man to take to the stage was Ricardo. Whilst not technically headlining the festival, certainly within my group, there was a feeling that this could well be the highlight of the day. The Chilean is famous for producing game changing sets and in my opinion there is no one who gets away with playing such a varied selection of tunes. He weaves his way effortlessly through the tracks, making his adjustments on the mixer look like natural extensions of his limbs. There were a few equipment issues once again, probably from the change over from the live set, but it wasn't anything terrible. Highlights from the set were definitely Matt John – Hello Again (California Sunrise) and a Cassius – Sound of Silence remix.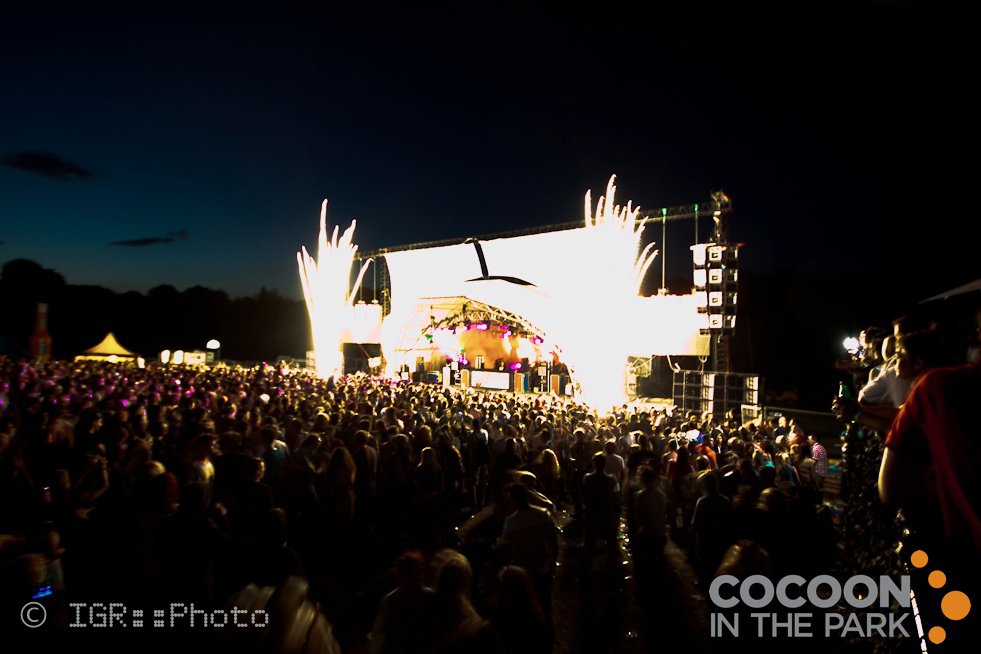 Sven took over about 6.30pm to take us through to the end of the event. As the sun began to set over Temple Newsam, there was no shortage of visual aids used to keep the energy going in a crowd that had been on their feet for about 9 hours. Sexily clad dancers, confetti canons, flame throwers and even fireworks were all being deployed around the stage. I suppose it wasn't my favourite set of the day from a musical point of view, but the standard had been exceptionally high and it capped off the whole event nicely. The highlight of the set by far was Azari & III – Hungry For The Power (Jamie Jones remix), which was a refreshing deep house interlude in the otherwise techno dominated flavour.
As the event came to a end, all that remained was to travel a couple of hundred miles back to London. I wasn't really sure what to expect, I was undecided as to whether it was going to be an after party on a coach or something a lot more subdued. Well, after locating our coach again and waiting for a few lost stragglers to do the same, we set off into the night. The next five hours can only be described as painfully slow. Pretty much everyone went straight to sleep, sprawled out across the isles, and the desperation I had to be back home was only exaggerated by the knowledge that Dixon was currently playing room 1 at Fabric. Drifting in and out of consciousness and checking my watch every 5 minutes was not what I had expected, and was the only factor of the entire day that would make me think twice about returning to the event next year. My advice would probably be to stay somewhere in Leeds over night and jump on the train back the next morning.
All in all the day was a massive success. The combination of the selection of DJs, the more than satisfactory sound system, a bit of luck with the weather and a more intimate feel than the likes of the massive outdoor events with 60,000+ and several stages, all contributed to making this one I'd definitely recommend for 2012.
See you on the dancefloor.