Public life, which has branded itself as "London's most unique clubbing experience", started out as a Victorian public toilet, but since 2004 (after a refurb of course), has been operating as a clubbing venue on Commercial street in London's East End. Its small capacity of 100 people ensures an intimate and sociable atmosphere, which are not normally two adjectives you would associate with public toilets.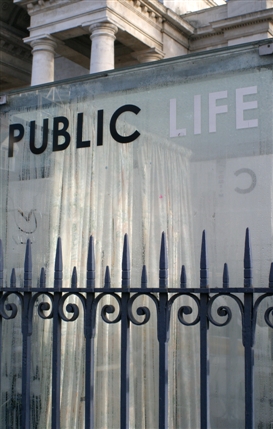 Although primarily a daytime venue normally attended by any hardcore ravers looking to after party their weekends away, the club has recently started hosting events on Friday nights, and Mudlife was one such event. The event flyer listed; Randy Warhol, Tension & Release, Tom Law, Anna Wall, and Ryloh as the DJs who would be performing. This was in fact the second part of Mudlove's appearance at Public Life, after the success of their first night back in October.
I arrived on Friday rather late into the night, after an unpleasant 15 minutes in an over crowded Favela Chic I made a last minute decision to join my friends who were there and check it out. From the outside, little is given away about the weird and wonderful happenings below the ground, and if it wasn't for the coloured lights attached to the frosted glass wall surrounding the steps leading down, you could easily still mistake it still for a public toilet.
The night was a very reasonable £4, which we paid and continued down into the club. The first thing that you notice is the size of the venue. With clubs in London boasting capacities in the thousands, and more and more warehouse parties taking place, to see a space that was designed for up to 100 was a shock. The long, thin shape of the room spread things out a little bit, with a bar running down most of one side and the decks raised up a little bit in the far corner. It wasn't packed to capacity when we arrived at about 11.30pm, but it was sufficiently busy.
The next things I noticed were the lighting and visuals. Opting for the simple but highly effective choice of some small laser machines worked perfectly given the design of the room. The red and green beams darted about the room, reflecting off the ravers, and were more than adequate in creating a good atmosphere.
As we arrived late we basically saw the whole of Anna Wall's set, but little of the other DJs so I can't comment too much on them.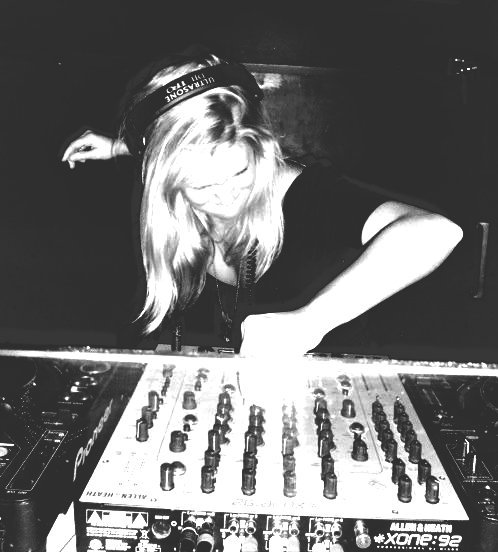 Anna's style of music is fun and easy to dance to, consisting mostly of house and tech-house. It was a no nonsense set the had everyone in the club dancing either on the dancefloor or standing on the ledges that surrounded the room. With no cloakroom in the club, my friends who know Anna managed to persuade her to stuff our jackets behind the decks, where as the other (less well connected) people had opted to hide their layers on various shelves, nooks and crannies that they could find hidden about. After grabbing a few drinks at the bar, which were priced very reasonably, we made our way onto the dancefloor. The sound system is excellent, providing crystal clear sound at a decent volume, with reassuringly thumping bass. Given that the space is a modest one, this was expected, but it is always a massive bonus to be satisfied with the speakers. The acoustics in the room were also pleasing, and the sound seemed to cover the whole place equally.
As Anna's set developed into full swing, her choice of tune selection made it apparent that she clearly knows her stuff. The set took a more predominantly tech-house vibe and the crowd seemed to be satisfied. Her technical ability when manipulating the bass and EQ was decent, and if I had to give one criticism, it would only be that there was one or two small blips in the beat matching. They were only small and I don't think most of the crowd even noticed, and in her defense these were corrected very quickly without anything really being lost from the overall set. In fact having now listened to some of her mixes on http://soundcloud.com/djannawall I can't help but be impressed by her versatile and engaging style. I asked a couple of guys in the smoking area who had been in the club most of the night what they thought of the event overall and I was told that "it had been banging from start to finish, the music was right up my alley, and although this is our first visit to Public Life for a night time event, we'll definitely be back again". The friend nodded in agreement and then told me that they still loved the club for it's Sunday afternoon raves, and there is nowhere better in London to party away the day time. I will be sure to check it out again on a Sunday. Who would have believed you could have such a good time in a public toilet?
Be sure to keep an eye out for the next Mudlove listing, they have just announced that they will be returning to Public Life on December 17th and I'd highly recommend checking it out for yourselves. Regular Public Life line ups can also be found easily on their website. If you want to find out a bit more about Anna Wall, you can find her bio and listings on RA at http://www.residentadvisor.net/dj/annawall.
I'll see you on the dancefloor.