Whoever thought of combining skiing with a music festival was a genius and deserves some sort of award. Snowbombing is a completely unique experience which runs annually at Easter time, towards the end of the ski season. It manages to carefully balance the festival atmosphere with a skiing holiday feeling that appeals to a wide range of people, allowing you to take as much or as little as you like from each aspect of the trip..
Snowbombing started back in 2000 and has been held in both France and Switzerland before settling in the Austrian town of Mayrhofen in 2005. The town sits next to the Penken mountains which are easily reached by the Penkenbahn ski lift which is located right bang in the middle of Mayrhofen, next to the Strauss hotel which is the Snowbombing hub and headquarters during the festival. For the skiing mad amongst you, you'll be pleased to know that the Penken mountains are home to the Harakiri slope, which is Austria's steepest piste. The festival has grown in size each year since it begun, with a total capacity of 6000 announced for 2011. This happens to be nearly twice the population of Mayrhofen, so the festival really does take over the whole town. The festival reserves the overwhelming majority of rooms in all the local hotels and Bed & Breakfasts, offering a range of packages which include either 3 or 4 star hotels, 4 star 'favourite' hotels, and self-catering apartments. The package price includes your accommodation and entry to most the night life.
The festival aspect of the trip includes nightly music acts playing at four or five of the town's clubs and bars, as well as special events throughout the week which include a street party, a forest party, arctic discos, and back country parties. I will explain a bit more about these later. There is also a Mixmag terrace at the top of the ski lift with daily entertainment including live DJ acts and last year even a bi-daily workout session with none other than Mr Motivator.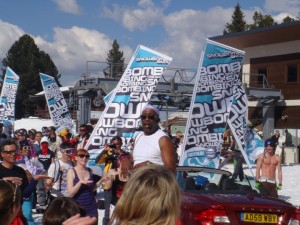 The Snowbombing experience begins on as soon as you set off for the week. You have the option to either fly to one of the three local airports (Innsbruck, Salzburg or Munich), or take one of the several coaches arranged by the event if you want to save a few extra pennies. There is also the option to take part in a road trip that takes you on a two day journey from the UK all the way to Mayrhofen. I haven't done this myself but the stories sound incredible, with the focus being about enjoying the adventure across, as is not a race. Definitely something to consider adding to your trip.
In addition to your travel and transfers, you will be expected to purchase a lift pass for any days you plan on skiing and unless you're taking your own equipment you'll need to include you rentals in your overall cost. Apart from that, once you are there, the only spending money you'll need is for food and drinks, as everything is within short walking distance, so there are no travel costs.
For those people who haven't hit the nightlife too hard to get out of bed at a decent time, I cannot recommend highly enough the skiing part of the trip. We managed to get on the slopes every day and spend 10.30am-4pm exploring the beautiful Austrian slopes, stopping regularly of course for a hot chocolate or a pint, a sneaky shot of Jagermeister, and some pretty decent mountain food. There are a good range of slopes for all abilities, and despite it being the last week or two of the season, we found hardly anything closed and the quality of snow more than acceptable. The apres ski which takes place in and around the Mixmag terrace is something pretty special, which I'm fairly confident in saying you won't find anywhere else. There is constant entertainment, and it is one of the highlights of your day.
As night time descends each day, the atmosphere evolves into a party town. The night life alone would be enough to sell the trip, with a catalog of impressive live acts and DJs filling the clubs, bars and events every single night. The range of genres means there is something to satisfy all tastes, with everything from indie to drum n bass, electro to dubstep and most things in between.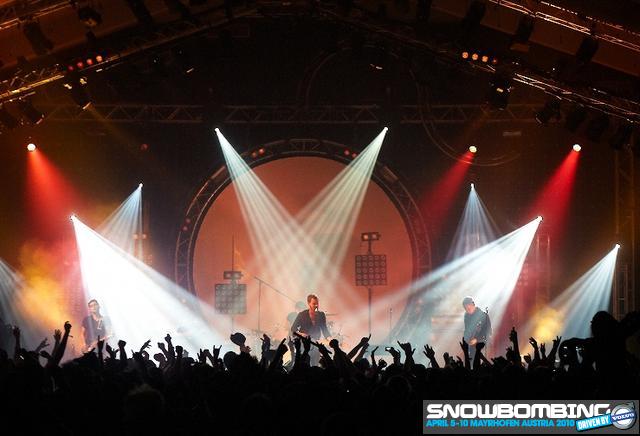 The line up for this year can be found at http://www.snowbombing.com/en/music, and you can also find all the prices and details if you have a little look around the site. We saw a few of the hotels when we were out there last year and I was impressed by the quality of accommodation that you get for your dollar. Especially considering the number that have steam rooms, jacuzzis and swimming pools for taking care of those achy muscles after a long hard day on the mountains.
Included in your package price are two special nights.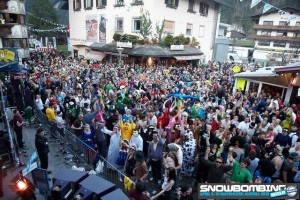 One is a street party, hosted right on the main road of Mayrhofen. It starts in the early afternoon and takes you right through til the normal evening entertainment. It is a messy collection of every possible theme of fancy dress, a BYOB policy, some great DJs rocking the stage right outside the entrance to the main ski lift, and some hilarious live comedic entertainment from The Cuban Brothers. If you have booked one of the 4 star favourite hotels, you may even be lucky enough to have a balcony overlooking the whole thing, as an alternative option for enjoying the street party. The other event is a forest party, hosted about a 15 minute walk from the town centre. If you miss the street procession that sets off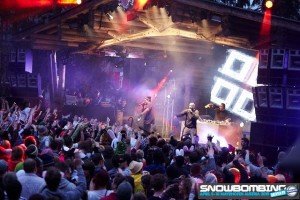 around 7pm, you can make your own way through the sign posted surrounding forest until your adventure brings you to the location. It is very cleverly done, and an incredible sight to see thousands of people in fancy dress navigating their way through the forest in search of some musical reward. The fancy dress themes for the week are decided upon by the organisers in advance and you are given plenty of warning if you wish to co-ordinate with the other bombers…some people prefer to go their own direction and do something completely unique and that is just as welcomed at the festival.
I don't think it matters how you decide to get to Mayrhofen or if you go in a group of two or twenty. The sociable and friendly atmosphere that it i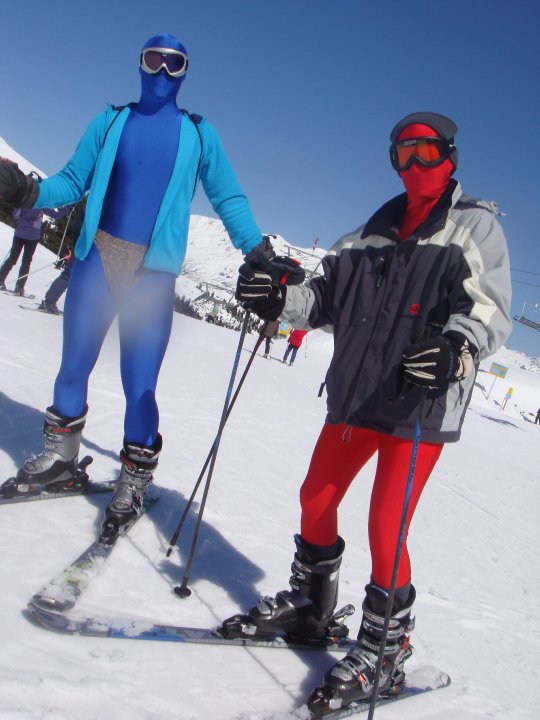 s famous for ensures that you come home with plenty of stories and happy memories. I tried to pinpoint the reasons for why with so many exciting festivals and holidays out there, especially new ones I have tried yet, I didn't even have to think twice before booking Snowbombing 2011 the day it went on sale, even after having been last year. Short of saying you have to see it to believe it, there are so many reasons for why you can't help but love the whole experience. The fancy dress isn't unique to Snowbombing, you can find similar things at Secret Garden Party or Bestival, but for some reason, seeing a big foot chasing a load of skiers down the slopes, closely followed by a group in morphuits, and thinking you've seen it all, only to have the teletubbies appear on Snowboards soon after that, gives the day time experience a really surreal edge.
It isn't hard to find festivals with great night time line ups and there are even a few with things to keep you entertained in the day, but I don't think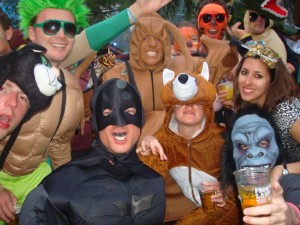 there is anything else out there that has so much of both. With a day on the slopes keeping you occupied from breakfast time until well into the afternoon and the evenings starting as soon as the slopes close and continuing well into the early hours of the next day, the only criticism anyone seems to have of the whole trip is there just simply isn't enough time to sleep.
There are other options available to add to your Snowbombing experience which they have made very easy to do on the website after you make your initial booking. The most popular of these is the Arctic Disco which is a rave held nightly in a massive igloo that has been built up the mountains hidden away. Last year this was hosted by Annie Mac, and there is nothing else in the world that comes even close to similar. I challenge you to find anyone who hasn't been Snowbombing that has raved in an igloo. It costs £40 a ticket and all the nights sell out months in advance so it's definitely something to get involved in early.
There is still time to get yourself involved for Snowbombing 2011 and you need a pretty good reason not to in my opinion. They only require a small deposit to secure your spot until much nearer the time of the festival as an added incentive to book early. Definitely make sure you experience it at least once, you won't be disappointed.
I'll see you on the dancefloor…or possibly the slopes.